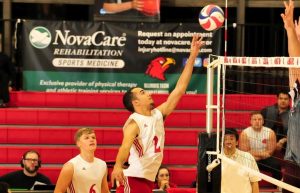 The Illinois Tech Men's Volleyball team hosted Adrian College on February 24 at the Keating Sports Center in a five-set match. The Bulldogs were able to tie the match at two sets a piece, but the Hawks won the final set 15-12 and the match 3-2.
Scores
Illinois Tech 3, Adrian 2 (25-18, 21-25, 25-21, 24-26, 15-12)
How It Happened
Illinois Tech built an early 12-6 lead and led as much as seven in the first set. The Hawks never looked back and cruised to an easy 25-18 win.
The Hawks continued their success on offense and built a 12-8 lead, but the Bulldogs fought back, led by Eduardo Aleman, and won the second set 25-21.
With the match tied 1-1, the Hawks relied on the offense of Lukasz Kupiec (seven kills) to recapture the lead with a 25-21 third set victory.
The fourth set proved to be an entertaining one. The Hawks led all set and at one point had match point (24-21), but the Bulldogs dug deep and strung off six consecutive points to win the set 26-24.
Both teams exchanged points to start the final set, but the Hawks were able to gain a three point cushion (13-10) and ultimately take down the Bulldogs, 15-12, to win the match.
Scarlet Hawk Standouts
Kupiec had a match high 23 kills to go along with 16 assists and seven digs.
Andrew Woltman was one of the anchors on offense, tallying a team high 28 assists. He also had nine digs.
David Allen had an effective match, scoring nine kills, a match-high five aces, 11 digs, and one assist.
Derek Bostick had a team high in digs (19) to go along with three assists.
Stats to Know
Illinois Tech had nine service aces, five more than the Bulldogs (four).
The Hawks tallied 51 assists compared to 44 for Adrian College, resulting in 54 kills, seven more than the Bulldogs (47).
Both teams were close in digs as the Hawks tallied only two more (61) than the Bulldogs (59).