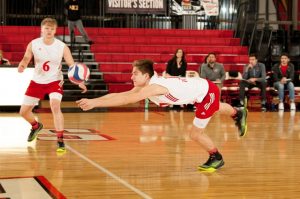 The Illinois Tech Men's Volleyball team has released its 2017–18 schedule. This year's schedule features 11 home matches, nine tournaments (including two at home) and many games against local NCAA Division III opponents.
"The team is very excited about the upcoming season and the challenges our schedule presents," said third-year head coach Katie Reifert. "We will face some top Division III competition as well as some new programs competing in their first-ever collegiate season. The team is eager to get started and improve on our record from last season."
The Scarlet Hawks will begin their season in mid-January with three straight weekend road tournaments. First, the team will travel to California to partake in the Slug Slam Tournament at UC Santa Cruz. The team will take on Stevenson on Friday, January 12 at 4 p.m. Pacific Time, followed by UC Santa Cruz and Cal Lutheran on Saturday, January 13.
All 2017–18 home contests will have live audio, video, and statistics. The live audio will be powered by Illinois Media School.