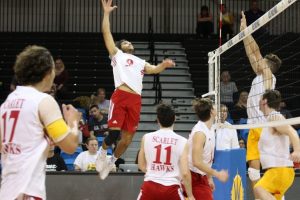 The Illinois Tech Men's Volleyball team played two matches on January 27 at Aurora University, defeating Augustana College in five sets before falling to AU 3-0. The day's events moved the Scarlet Hawks to 3-5 overall on the season.
Scores
Illinois Tech 3, Augustana 0 (22-25, 22-25, 25-22, 25-19, 15-9)
AU 3, Illinois Tech 0 (22-25, 23-25, 19-25)
How it Happened
For the second contest in a row, the Scarlet Hawks came back after dropping the first two sets to win against Augustana. Illinois Tech did the same on January 24 against Trinity Christian.
This match was once again propelled by Cinjun Coe who tallied an impressive 26 kills and hit .404%.
This time, Coe's most impressive work actually came in the sets Illinois Tech was defeated, tallying 15 kills in the first two sets. His presence opened things up for the rest of the team down the stretch, which Illinois Tech took advantage of to hit to the tune of .400% in the fifth set to earn the win.
Against Aurora, Illinois Tech was able to fight hard against the Spartans despite playing directly after the five-setter against Augie.
Illinois Tech was downed in the first set despite outhitting the Spartans .214% to .176%. While the Scarlet Hawks hit well all match (.254%), Aurora's strong net presence (16 total blocks) proved to be a big factor in the host's victory.
Scarlet Hawk Standouts
Coe continued to shine, recording 39 kills in the two matches and hitting over .400% in both of them. He also recorded 13 digs and four total blocks on the day.
Daniel Throop led the team in assists in both matches, recording 42 over the two games.
Stats to Know
Illinois Tech had 16 block assists against Augustana and out dug the Vikings 51-39.
The Scarlet Hawks and Vikings combined for 40 service errors.
Aces were a key factor for AU, as the Spartans outdid the Hawks 7-2.
Up Next
The Scarlet Hawks will host two teams on Friday, February 2 at the Keating Sports Center, taking on Robert Morris-Chicago (4:30 p.m.) and Loras (7 p.m.). Live audio, video, and statistics will be available for both matches. The live audio will be powered by Illinois Media School.