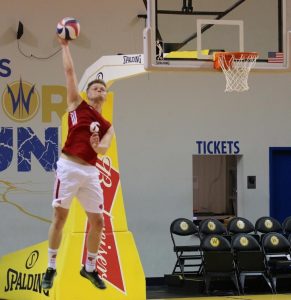 The Illinois Tech Men's Volleyball team made quick work of the visiting Olivet Comets, winning the match three sets to none at Keating Sports Center.
How it Happened
The Scarlet Hawks began the match well, jumping out to a 6-2 lead. Illinois Tech continued the pressure behind 11 combined kills from Lukasz Kupiec and Cinjun Coe, extending the lead up to seven before the Comets decided to call for time. Olivet put together a run to draw within five at 23-18, causing the Hawks to call a timeout as well. But the lead held, as the Hawks closed out the Comets 25-20.
The second set began with the two teams trading points out to a 5-4 Scarlet Hawks lead. Illinois Tech was able to extend the lead to five after eliminating some early mistakes and Olivet called timeout. While the Comets were able to stay close, Illinois Tech continued to play well with Andriy Bench recording four kills and the Hawks held a 18-13 lead down the stretch.  Kupiec smashed down the set-winning kill—his sixth in the set—and Illinois Tech won 25-19.
After a 10-10 tie between the two teams in the third set, Illinois Tech started to build a slight lead over the still-hustling Olivet by landing 13 kills during the third. Coe landed a service ace to put the Scarlet Hawks up 15-12 and the Comets requested a timeout. The lead extended to six at 22-16 for Illinois Tech before the Scarlet Hawks ultimately closed out the set and match 25-18.
Scarlet Hawk Standouts
Kupiec got six kills in each of the three sets to finish with 18 total. He had a .361 attack percentage and added seven digs.
Coe was not far behind, as he recorded 15 kills on a .235 attack percentage, plus nine digs.
Bench and Evan Robeck held similar stat lines. Both had six kills, one solo block, and one block assist. Robeck added two service aces as well.
Stats to Know
Illinois Tech held a .316 team attack percentage to Olivet's .101.
The Scarlet Hawks doubled up the Comets in kills 46-20.
Olivet held the advantage in blocks (6-4).
Illinois Tech shared the ball very well, tallying 40 assists.
Up Next
Illinois Tech will welcome Aurora on Friday, March 23 at 7 p.m. at Keating Sports Center. Live audio, video, and stats will be available. The live audio will be powered by Illinois Media School.