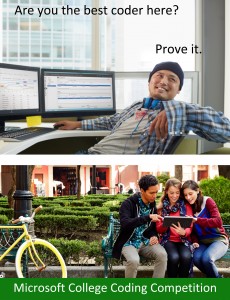 Career Services and Microsoft present a Microsoft College Coding Competition on Friday, April 3, 2015, from 6-8 p.m. in the Hermann Hall Ballroom.
Sign up in teams of one-three people. Teams must bring a laptop and power source.
Details and Prizes:
$100 for each member of winning team
Xbox giveaway
Free pizza
All classes and levels of experience are welcome.
For event dates, details, and to register, click here: Contest Rules. Visit the contest website here.