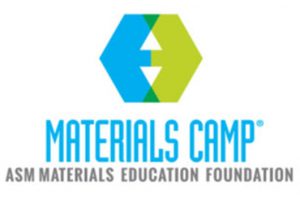 Since 2013 the Mechanical, Materials and Aerospace Engineering (MMAE) department at Armour College of Engineering and the American Society of Materials (ASM) International have partnered to sponsor and host the ASM Materials Camp. The event is an important program aimed at reaching local Chicagoland junior high and high school students.
The MMAE department hosted a group of junior high and high school science and math teachers from the greater Chicagoland region July 16–20. Master teachers Caryn Jackson of Tolles Career & Technical Center in Plain City, Ohio, and Justin Sickles of West Mifflin Area High School in suburban Pittsburg, Pennsylvania, have been leading demonstrations and helping to "educate the educators" on how to develop effective laboratory modules that help promote science, technology, engineering, and math (STEM) learning in the classroom.
The camp consists of a week-long instructional period that is free to all teachers and gives them a chance to learn content and try out hands-on activities that they can take back to their classrooms and get their students excited about materials science and engineering. Each of the teachers that complete the ASM Materials Camp program will have the opportunity to expose MSE and STEM concepts to hundreds of local students that are educated in their classrooms every year.
Professor of Materials Engineering Sammy Tin and staff members Elena Magnus and Russ Janota from the MMAE department served as local organizers for the program.