Armour College of Engineering's Department of Mechanical, Materials, and Aerospace Engineering will welcome Dr. Amy S. Fleischer, the Dean of Engineering at the California Polytechnic State University in San Luis Obsipo, CA, to present a lecture, "Making a Difference in the World Using a Learn by Doing Approach."
The virtual seminar will take place on Wednesday, Sep. 1, 2021, from 3:30–4:30 p.m. Contact Elena Magnus at magnus@iit.edu for the seminar details and a link to join.
Abstract:
Working in academia today poses a lot of interesting challenges. The world has changed significantly, and faculty, students and administrators are faced with navigating uncharted waters in many different areas including in their research plans, teaching plans, and in implementing meaningful actions around diversity, inclusion, equity and justice. In this seminar, Dean Amy Fleischer will talk about the "Learn by Doing" approach that underlies the culture at Cal Poly and how the college is leaning into this culture to empower the community to make change.
Biography: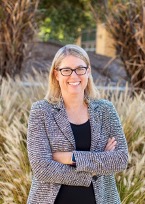 Dr. Amy S. Fleischer is the Dean of Engineering at the California Polytechnic State University (Cal Poly) in San Luis Obsipo, CA, a role she has held for three years. In this role she sets strategic direction for the college and oversees the operations of the nine departments, 14 degree programs, 220 FTE faculty, 55 staff, 6000 students and a $40M budget. She is a passionate advocate for Cal Poly's Learn by Doing approach to engineering education.
Before arriving in San Luis Obispo, Dean Fleischer was a Professor and Chair of the Mechanical Engineering Department and director of the National Science Foundation Research Center for Energy-Smart Electronic Systems at Villanova University. She was on the faculty at Villanova for 18 years. As an internationally recognized research expert in thermal management of electronics systems, she has led work on 42 research grants funded for a total of $7.4M and has published more than 90 peer-reviewed publications and two books.
Dean Fleischer is also active in leadership in the broader engineering community, and currently serves as the chair of ASME's Electronics and Photonics Packaging Division and on the Diversity and Inclusion Committee of ASEE's Engineering Dean's Council. She also co-chairs the CSU Engineering Dean's council. She is a fellow of ASME and has won numerous teaching and research awards.