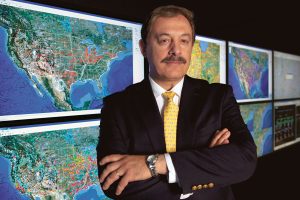 Illinois Institute of Technology (Illinois Tech) professor Mohammad Shahidehpour has been named a 2017 Fellow of the National Academy of Inventors (NAI), a distinguished cohort of 155 inventors from around the world.
Shahidehpour is an internationally recognized expert on electric power system planning, operation, and control who joined Armour College of Engineering in 1983. Distinguished Bodine Chair Professor of Electrical and Computer Engineering and Director of the Robert W. Galvin Center for Electricity Innovation, he led Illinois Tech's $12 million partnership to build the Illinois Tech Microgrid, the nation's first functional microgrid on Illinois Tech's Mies Campus. Shahidehpour is also Associate Director of the Wanger Institute for Sustainability and Energy Research (WISER).
Election to NAI Fellow status is the highest professional accolade bestowed solely to academic inventors who have demonstrated a prolific spirit of innovation in creating or facilitating outstanding inventions that have made a tangible impact on quality of life, economic development, and welfare of society.
Shahidehpour will be inducted as part of the Seventh Annual NAI Conference of the National Academy of Inventors in Washington, D.C. on April 5, 2018. Andrew H. Hirshfeld, U.S. Commissioner for Patents, will provide the keynote address for the induction ceremony.
Those elected to the rank of NAI Fellow are named inventors on U.S. patents and were nominated by their peers for outstanding contributions to innovation in areas such as patents and licensing, innovative discovery and technology, significant impact on society, and support and enhancement of innovation.
The National Academy of Inventors is a 501(c)(3) non-profit member organization comprising U.S. and international universities, and governmental and non-profit research institutes, with over 4,000 individual inventor members and Fellows spanning more than 250 institutions worldwide. It was founded in 2010 to recognize and encourage inventors with patents issued from the U.S. Patent and Trademark Office, enhance the visibility of academic technology and innovation, encourage the disclosure of intellectual property, educate and mentor innovative students, and translate the inventions of its members to benefit society.