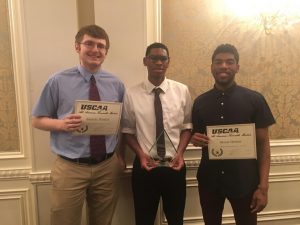 The Illinois Tech Men's Basketball team left the USCAA National Championships banquet with the greatest number of All-Americans in program history. The Scarlet Hawks landed three All-Americans: Anthony Mosley Jr. (First Team), Samuel Rarick (Honorable Mention), and Malik Howze (Honorable Mention).
Mosley Jr. was named USCAA All-American for the second straight year. A First Team selection a year ago as well, the Chicago native followed that up with an 18.9 points per game average (ninth in USCAA) to go along with 6.5 assists (third in USCAA), 4.1 rebounds, 1.7 steals, and a 49.6% shooting percentage. The 6.5 assists per game nearly doubles his 3.6 average from a season ago, while he also increased his shooting percentage by over 4% while adding a three-point shooting element to his game. The Whitney Young product scored over 30 points in a game twice this season, including a career-high 36 points at University of Chicago on November 22. The sophomore also had a streak of eight straight games with 20 or more points (December 18-January 18) and tallied three double-doubles, hitting the 10 assist mark three times. He was also a U.S. Basketball Writers Association and Association of Division III Independents Player of the Week selection.
Rarick earns the USCAA All-American honors for a third consecutive year after being named Second Team each of the last two seasons. The school's all-time NCAA Division III scoring leader with 1,834 career points, Rarick ranked third on the Scarlet Hawks in scoring (16.0 per game), first in shooting percentage (55.5%, ninth in USCAA) and free throw percentage (81.4%), third in rebounding (7.1) and second in blocks (1.0). The senior co-captain and AD3I Player of the Week selection scored over 20 points 11 times and had a season-high of 25 at Moody Bible Institute on January 24. He also shot over 50% an astounding 19 times and recorded seven double-doubles.
Howze was named All-American in his first season as a Scarlet Hawk. The sophomore transfer was second on the team in scoring with 16.6 points per game on 43.2% shooting and impressive team-high 38.6% from three-point land. The combo guard also averaged 4.3 rebounds, 3.9 assists, and 1.2 steals per game. An AD3I Player of the Week selection, Howze scored over 20 points in nine games and had a season-high of 25 on two separate occasions. The Detroit native finished the season strong, shooting over 50% in each of the final four contests while averaging 17.3 points and 5.8 assists per game. He had a season-high 14 assists against Lincoln Christian on February 16, which is the most in a game for any Illinois Tech player since the program was brought back in 2011-12.
The #4 Scarlet Hawks begin USCAA Tournament play on Wednesday, March 1 at 3 p.m. CT against #5 Florida College in Uniontown, Pennsylvania, at Penn State-Fayette. The USCAA is set to provide live stats and a live broadcast.