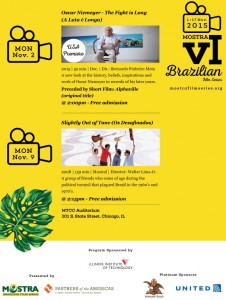 Brazilian Student Organization with Partners of America will exhibit two Brazilian Movies during the MOSTRA VI – Brazilian Series.
Illinois Tech will exhibit the following movies:
Monday, November 2 – Oscar Niemeyer, The Fight is Long
Monday, November 9 – Sightly out of Tune (Os Desafinados)
Both movies will be screened in The McCormick Tribune Campus Center (MTCC) Auditorium at 3 p.m. Snacks will be served.
Other movies will be exhibited in different universities around Chicago. For a detailed list, click here.