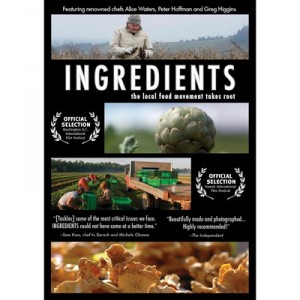 The end of the semester means loads of studies and submissions. Take a break and relax for a while by attending Movie and Food Night on Friday, April 26 from 6:00 – 7:15 pm at the Downtown Campus, room 170.
Come and enjoy "Ingredients," a movie on the seasonal exploration of the local food movement. RSVP here.
Other upcoming sustainability events through IIT Stuart School of Business include "EMS—End of Semester Party" on Friday, May 10. Details will be coming soon.
Contribute to planning of future transportation programs at IIT by filling out the Transportation Survey.
INGREDIENTS illustrates how people around the country are working to revitalize our connection between our food. Narrated by Bebe Neuwirth, the film takes us across the U.S. from the diversified farms of the Hudson River and Willamette Valleys to the urban food deserts of Harlem and to the kitchens of celebrated chefs Alice Waters, Peter Hoffman and Greg Higgins. INGREDIENTS is a journey that reveals the people behind the movement to bring good food back to the table and health back to our communities.  Watch the trailer: