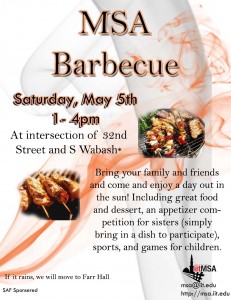 The Muslim Students' Association at IIT invites all students and staff to the annual spring barbecue from 1 – 4 pm on Saturday, May 5.
If there is no rain, the barbecue will be held in the field between the graduate halls (at intersection of 32nd Street and S Wabash Ave). If it rains, the barbecue will be held at Farr Hall and Farr field (intersection of 33rd street and S Michigan ave).
There will be food, good company, and fun and games!
The event is SAF sponsored.
Contact msa@iit.edu with any questions.