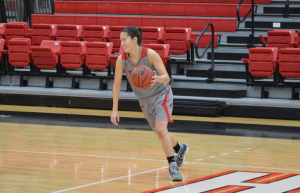 The Illinois Tech Women's Basketball team trekked north to Milwaukee on December 14 to oppose Milwaukee School of Engineering. Illinois Tech fell 79-19.
How it Happened
A slow offensive start doomed the Hawks, shooting two-of-15 from the floor in the first quarter and allowing the Raiders to build a substantial lead. The shooting woes continued for Illinois Tech in the second, as MSOE lead 32-5 at intermission.
Illinois Tech was able to get a stronger offensive output in the second half, which included six fourth-quarter points from Kaylee Wicka. However, MSOE's offense found another gear and increased the advantage as the contest moved along.
Scarlet Hawk Standouts
Wicka led the way with 11 points, six rebounds, and two steals.
Madison Davis also chipped in on the boards with five. Both Raiven Johnson and Davis added two steals each.
Up Next
Illinois Tech will play host to North Park University on Saturday, December 17 at 2 p.m. in the Keating Sports Center. Live audio, video, and stats will be available. The live audio will be powered by Illinois Media School.