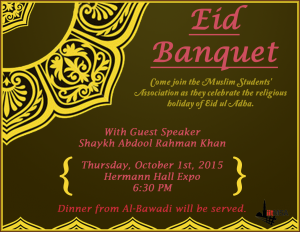 The Muslim Students' Association will be hosting an Eid Banquet to celebrate the Islamic religious holiday of Eid-ul-Adha.
The banquet will be held on Thursday, October 1, 2015 at 6:30 p.m. in the Hermann Hall Expo. A short program will be held followed by dinner catered by Al-Bawadi Grill. The program will feature Shaykh Abdool Rahman as a guest speaker.
Everyone is welcome to join MSA for food, entertainment, and fun.
This event reflects the values expressed in IIT's Diversity Statement and is intended to promote diversity at Illinois Tech.