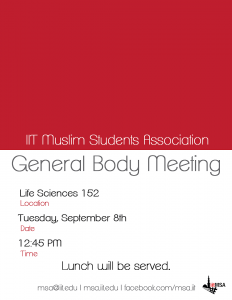 The Muslim Students Association (MSA) will hold their first general body meeting of the semester on Tuesday, September 8 at 12:45 p.m. in Life Sciences Room 152.
The meeting will outline the services that the MSA provides for the student body, as well as events that the MSA holds throughout the year. The meeting will also provide an opportunity for new students to sign up for the MSA's mailing list, where they can receive additional updates on the MSA's activities.
Lunch will be provided.
Hope to see you there.