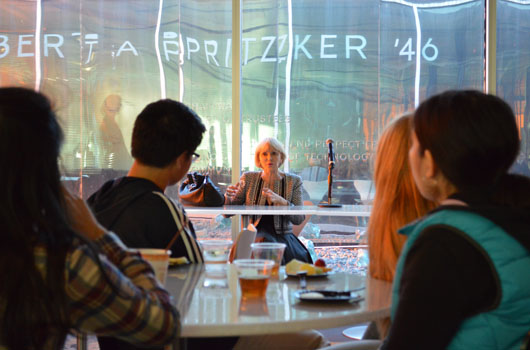 Armour College of Engineering hosted world renowned engineer and scientist, Natalia Zaitseva, a Distinguished Member of the Technical Staff of Lawrence Livermore National Laboratory, for a Women in Engineering Student Conversation. The event was held as part of Armour's Women in Engineering initiative, and will be one of many events where world renowned women engineers and scientists share their knowledge and experience with students.
During this informal conversation nearly 30 Armour students were treated to an intimate discussion on Zaitseva's unique path leading to her receiving worldwide recognition for growing the largest single crystal ever produced.
In her native country of Russia, Zaitseva began her scientific journey studying organic chemistry. She shared that her plans to attend graduate school changed when she became pregnant, but that it did not stop her ambition to further her education. With a family to help provide for, she went to work at Moscow State University where she was able to earn her Ph.D. through her job. Just as as she was beginning her research in Moscow, Zaitseva came to another turn in her path, but again she was not deterred.
This change in direction, Zaitseva shared, was coming to the United States after leaving Russia at the beginning of the Cold War. She, like many Russian scientists who were unsure about the future of scientific research in their country, left to pursue opportunities elsewhere. Her path to America led to Lawrence Livermore National Laboratory where she continued the work she started in Russia. During this time, she did not let the difficulties of leaving her home deter her from achieving her dreams.
At Livermore, Zaitseva continued her work researching crystal growth while raising her children and enjoying the arts and theater, never letting one aspect of her live overtake another. An important message Zaitseva brought to the students is that they do not have to sacrifice anything important to them in order to follow their dreams. She shared that as long as there is a balance to all the components in a person's life that makes them happy, then they will be able to find their path.