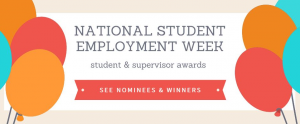 The Student Employment office would like to thank all students, faculty, and staff who participated in this year's National Student Employment Week. We were blown away by the number of responses, and by the quality of the nominations. We had a blast meeting everyone and going through the entries. The 2017 winners are listed below. Sixty-nine student employees and 53 supervisors were nominated. Thank you to everyone who took the time to write about all of the ways you appreciate your student employees and supervisors.
See a complete overview of last week's activities and events on the Student Employment website, including a list of all nominees, the nomination submissions for the winners, pictures, and quotes that really stood out to us about the student employment experience.
Distinguished Student Employees:
Michael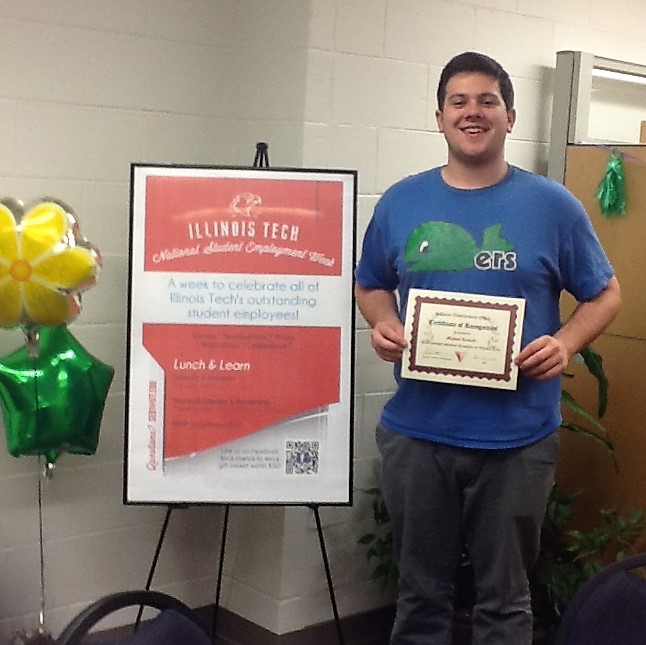 Lenardi,  phonathon manager, Institutional Advancement
Nominated by Joey Carillo
Excerpt:
"As a manager this year Michael has demonstrated excellent leadership, flexibility, and incredible amount of responsibility and follow through. Michael has maximized on the incredible amount of leadership potential that he has in our program and we will be sad to see him graduate this spring, although I know that he will go on to do amazing things."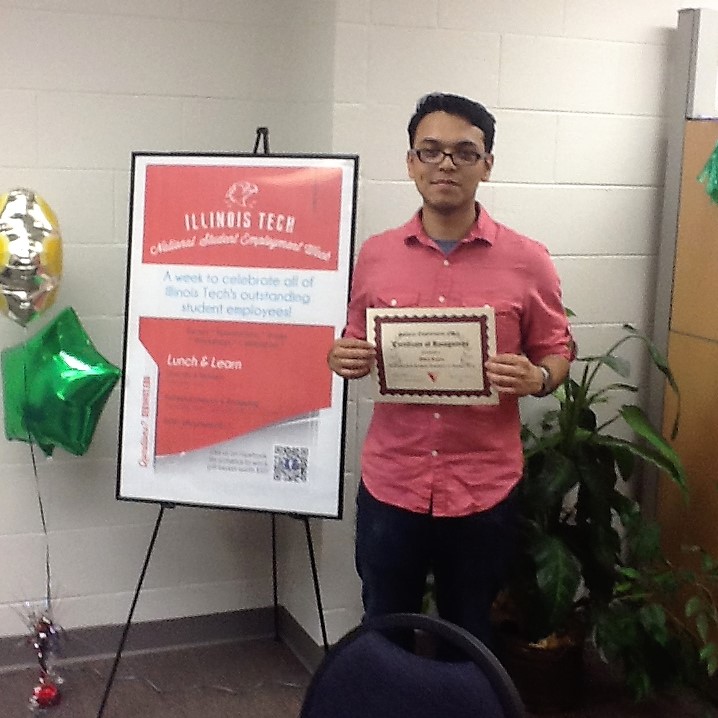 Elvis Reyes, OTS, lab controller
Nominated by Jhirmack Paul
Excerpt:
"Mr. Reyes is one of the hardest working, dependable, dedicated, trustworthy and intelligent student employees I have had the pleasure of having on my team since I have been running the OTS PC labs group in 2013."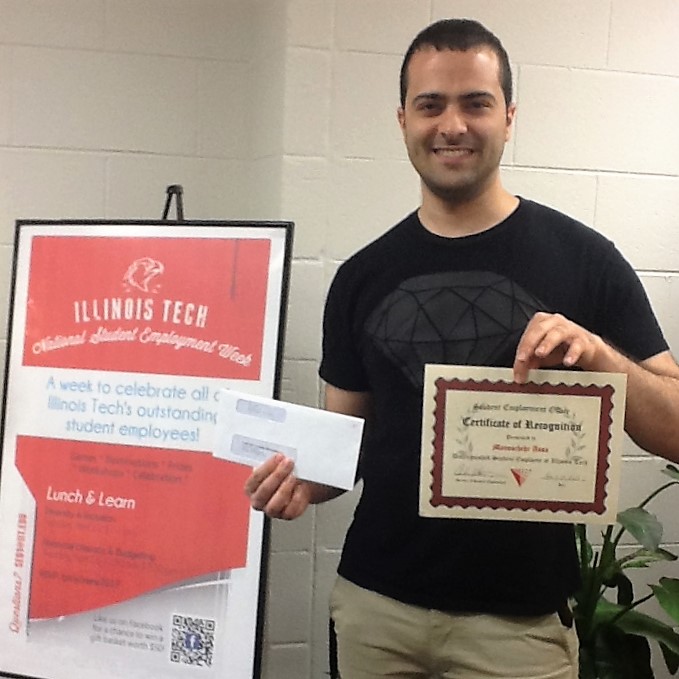 Manoochehr Assa, graduate assistant, School of Applied Technology
Nominated by Scott Pfeiffer
Excerpt:
"Manoochehr is an outstanding student worker who goes above and way beyond on every project. He has increased efficiency in strategic marketing direction for the School of Applied Technology by building our social media presence on social media."
Distinguished Student Supervisors:
Melisa Lopez, service manager, IIT One Stop
Nominated by Loreta Sutkus and Golzar Shobeiri
Megan Campanile, STEM partnership director, Academic Affairs
Nominated by Meghan Pickett
Nasir Mirza, reserves specialist, Galvin Library
Nominated by Marika Jasinski
Patryk Bednarek, manager of day operations and events, Event Services
Nominated by William Menzer
Contest Winners: 
Shagufta Naaz: Gift basket winner (drawn from "Likes" of Student Employment Facebook page).
Shivam Inamdar: Correctly guessed the number of jelly beans in jar (guess was 1,400; the actual total was 1,407 jelly beans).
Congratulations to all selected winners and participants.
We can hardly wait for next year. Want the full details? Read more here.