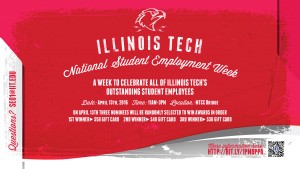 The Student Employment Office (SEO) is celebrating on-campus student employees and their supervisors during National Student Employment Week (NSEW), the week of Wednesday, April 13. The SEO has planned a special way of showing appreciation for on-campus students and their supervisors.
Candy on The Bridge:

On Wednesday, April 13 between 11 a.m. and 3 p.m., SEO will be at The McCormick Tribune Campus Center (MTCC) Bridge handing out candy and printouts of stories from student employees' experiences. Stop by to pick up some candy and meet the Student Employment team.

Social Media: To make the week even more exciting, we encourage supervisors and students to share a positive message, picture, and/or video on social media with your student employee(s) and supervisors, using #NSEWiit. Get out those selfie sticks and have some fun. 
Nominate an outstanding student employee or supervisor
Supervisors from all departments on campus have the chance to nominate their student employees, and each nomination submits the student into a raffle for a chance to win one of three gift card prizes at random. We highly encourage supervisors to nominate exemplary student staff members. All supervisors have been emailed a nomination form. Contact seo1@iit.edu if you did not receive this email.
Similarly, students will also be able to nominate their supervisors for a special recognition award for their/your hard work. Students working on campus are invited to nominate outstanding supervisors, and submit a quote about their on-campus employment experience.

Students: submit your nominations here.
Nominations are due by Sunday, April 10; winners will be announced on Wednesday, April 13.
Student employees perform invaluable services with enthusiasm, dedication, and initiative; a good supervisor serves as a model for the development of professional habits and provides mentorship for life beyond college. Let's show students and their supervisors that their contributions are acknowledged and that our gratitude to them goes beyond National Student Employment Week.
For more information contact seo1@iit.edu.