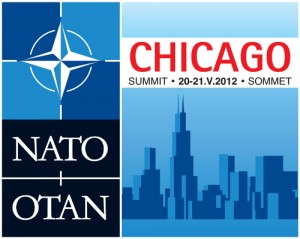 The North Atlantic Treaty Organization (NATO) will hold its 25th summit in Chicago on May 20-21, 2012. Leaders from NATO member countries are scheduled to attend the two-day event being held at McCormick Place and other locations in the city.
Authorities have announced many road closures and restrictions on public transportation, vehicular and pedestrian routes that may impact the commute of many members of the IIT community.  A full outline of the Security Restrictions and Transportation Plan can be downloaded here.
Road Closures and Parking Restrictions
Limited parking restrictions near McCormick Place began on Sunday, May 13, with additional parking restrictions near McCormick Place going into effect on Tuesday, May 15.  Road closures and pedestrian restrictions will be implemented beginning at midnight, Saturday, May 19 (Friday midnight into Saturday). The affected roadways will open for evening rush hour on Monday, May 21.
In addition to the announced road closures and parking restrictions, there will be intermittent traffic delays and temporary closures on interstate roads and throughout the downtown area beginning on Saturday, May 19, until Monday, May 21, to allow motorcades to travel to and from McCormick Place and other event sites.  View the Security Restrictions and Transportation Plan for details.
Scroll to the bottom for a detailed list and map of expected road closures.
Commuter Train (CTA and Metra) Restrictions
Due to safety and security measures implemented by the Secret Service, as well as street closures due to events or public gatherings, reroutes on a number of CTA bus lines during the summit and around related events will be necessary.  Updated information about CTA reroutes is available on the CTA NATO page.  Riders can also sign up for email and text alerts at the link.
Metra plans to close five stations around McCormick Place during the NATO summit and is advising passengers on all its lines they will be subject to screening and baggage checks and severe restrictions on what they can carry on trains during the summit.  Most lines will operate as usual, but some Metra Electric Line stations and the Blue Island branch line will be closed for all or part of the summit.
In addition to increased law enforcement presence at Metra stations and trains, the following safety measures apply to riders of all Metra lines during the three days (May 19, 20 and 21) of the summit:
Riders may be subject to search and/or screening before boarding or while en route.
Riders may carry only one bag not exceeding 15 inches square and 4 inches deep. Boxes, parcels, luggage, backpacks and bicycles will not be allowed on trains. Banned items cannot be stored at Metra stations. They must be removed or they will be disposed of.
Riders may not carry any food on the trains. Liquids and personal effects (such as makeup) must be less than three ounces in size. This includes coffee and other beverages. Breast milk can be carried but is subject to inspection and should be declared during any screening.
Riders may not carry any type of tools, pipes, stakes, wood or weapons, including pocket knives and pepper spray, on the trains.
Law enforcement personnel must identify themselves and present their credentials and any weapons. Security guards will not be allowed to carry any weapons onboard.
Full information on all Metra restrictions and closures, including daily schedules, is available on the Metra NATO page.
Notify Chicago
During the summit, the city of Chicago will be relying on the "Notify Chicago" system to keep residents and visitors updated on traffic issues. The alert system will inform users about street closures, bus reroutes, and potential delays.  Sign up for "Notify Chicago" text, email, or phone alerts here.
Riders with Disabilities
PACE Paratransit has issued a press release to advise its customers about potential service disruptions.
Expected Road Closures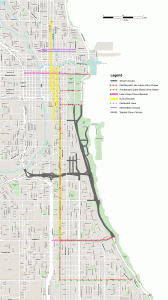 Listed here are potential traffic impacts Saturday, May 19 through 6 pm Monday, May 21.  Click the map for a larger view.
 Lake Shore Drive (LSD) from 39th street to Balbo will be closed
Access to 1-55 southbound and access to LSD via 1-55 northbound will be closed
I-55 northbound from  I-90/94 to LSD will be closed
Columbus Drive from Balbo to McFetridge will be closed
Roosevelt Road from Michigan Avenue to LSD will be closed
Indiana Avenue from 21st street to 25th Street will be closed
31st Street from Martin Luther King Drive to LSD will be closed
Martin Luther King Drive from Cermak to 26th street will be closed
Cermak from Michigan Avenue to Martin Luther King Drive will be closed
Ontario street from Orleans to Fairbanks will be intermittently closed
Ohio street from Orleans to Fairbanks will be intermittently closed
Clark street from Oak Street to Ontario will experience lane reductions
Dearborn street from Kinzie to Ontario Street will experience lane reductions
---
Links
Secret Service/Chicago Police Security Restrictions and Transportation Plan