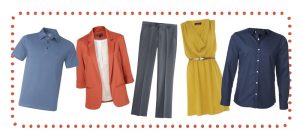 The Office of Career Services/Office of Student Access Success and Diversity Initiatives (SASDI) will provide a Clothing Closet for students who need ties, shoes, blouses, pants, and more for the career fair or other professional events.
The Clothing Closet is open on the following days and times in the Hermann Hall Field Room.
Thursday, February 22, 10 a.m.–2 p.m (Career Fair Day Two)
Contact Celestine McGee (cmcgee1@iit.edu) with questions about, or to donate clothing to, the Clothing Closet.
Style Guidelines
Professional attire is required for entry to the main Career Fair. Jeans, t-shirts, casual shoes (sneakers), shorts, and hats* will not be permitted. For more details, see the Illinois Tech Career Fair Style Guide or contact the Office of Campus Life.
*We do not discriminate against headwear worn for religious or cultural identity.
If you need an accommodation for a disability to fully participate in any of these events, please contact the Center for Disability Resources at disabilities@iit.edu or 312.567.5744.