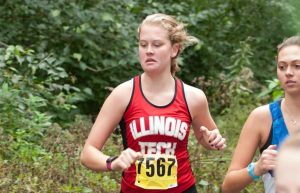 The Illinois Tech Women's Cross Country team competed at the Wisconsin Lutheran Warrior Invite on September 30. Erin Nelson led the way for the Scarlet Hawks in a strong meet for the team.
Meet Highlights
Nelson's 27:34.77 time placed her 54th to lead Illinois Tech runners.
Zoey Krevitz was also strong, placing 87th with a time of 30:47.90.
Meredith O'Leary finished in 114th place (33:34.09).
Up Next
Illinois Tech will race in the Benedictine University Eagle Invite on Friday, October 6 at St. James Farm in Warrenville, Illinois. The race will begin at 4 p.m.