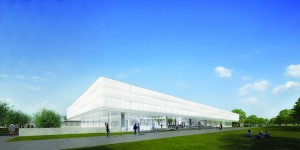 The design for the new innovation center at Illinois Institute of Technology was recently unveiled by John Ronan, architect for the project. Officially named The Ed Kaplan Family Institute for Innovation and Tech Entrepreneurship, the technologically advanced building will provide flexibly adaptable teaching space for IIT's project-based, undergraduate interdisciplinary courses and be the campus home of the university's internationally acclaimed Institute of Design.
"The design for the Kaplan Institute is a thoughtful and sensitive contribution to IIT's important architectural legacy yet is forward looking in its approach to the flexible and technologically advanced learning facilities needed today," says Ronan.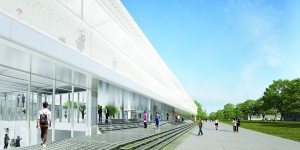 According to Ronan, the design is also innovative in its own right, especially in its approach to sustainability. The second floor of the building, which cantilevers over the ground floor to provide sun shading, is enclosed in a dynamic façade of ETFE (Ethylene Tetrafluoroethylene) foil cushions, the first use of its kind in Chicago. The dynamic ETFE façade can vary the amount of solar energy entering the building through sophisticated pneumatics, and at one percent the weight of glass gives the building a light, cloud-like appearance.
Building systems are similarly advanced. Water-filled tubing embedded in a concrete-filled metal deck converts the building's floor structure into a radiant heating and cooling system.
According to Bruce Watts, IIT's vice president of facilities, "The goal of LEED Silver certification for the Kaplan Institute reflects IIT's commitment to sustainability and is focused primarily on energy efficiency, abundant daylight and views, careful choice of materials, and easy access to four major public transit options."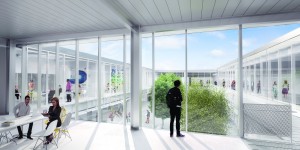 Located in the heart of IIT's historic Mies Campus, the building's location is intentional and designed to draw students and faculty in from all directions. The horizontal, open, and light-filled building is similarly designed to encourage encounters between students and faculty across disciplines.
Conceived as a hybrid of campus space and building, the innovation center is organized around two open-air courtyards through which visitors enter the building—and "collision nodes," which will encourage chance meetings and information exchange across departments and disciplines. The courtyards serve as the building's "eyes" and "lungs," bringing in natural light and ventilation to create a comfortable and healthy interior environment for collaboration—and a continuous connection with nature.
Circulation inside the building is indirect and dispersed, designed again to promote collaboration and interaction. Large, open, horizontal floor plates allow visual connection to multiple spaces at one time while openings in the floor plate allow visual access from floor to floor to foster the feeling of a single collaborative community of users.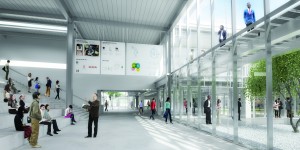 Interior space consists primarily of large, open, flexibly adaptive areas, which can be reconfigured easily and support a wide variety of uses. Assigned project spaces and meeting spaces that require sound isolation are enclosed with demountable partitions, which can be reconfigured over time, preserving the building's future flexibility.
Groundbreaking for the 92,000-square-foot facility is expected to take place in spring 2016. The building will house the university's Institute of Design, Idea Shop, the IPRO Program, and the Knapp Entrepreneurship Academy—as well as visiting entrepreneurs and community collaborators. All IIT undergraduates will take courses in the innovation center at some point in their educational experience.