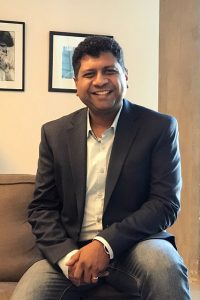 It is with great pleasure that Provost Frances Bronet announces the appointment of Anijo Punnen Mathew as the first academic director of the Ed Kaplan Family Institute for Innovation and Tech Entrepreneurship.
Mathew is a tenured associate professor at the Institute of Design, where his research looks at evaluating new semantic appropriations of urban spaces as enabled by technology and media convergence. He is also founder and chief experience officer of Vamonde, a Chicago startup and storytelling app. Vamonde offers cultural travelers the opportunity to visit places in Chicago and listen to curated stories about those places from a variety of local experts. The company was named by Built in Chicago as one of six Chicago startups shaping the future of virtual reality.
Mathew has a proven record of innovation and entrepreneurship through multidisciplinary collaborations. Prior to Illinois Tech, he was a tenure-track faculty member at College of Architecture, Art and Design at Mississippi State University, where he helped prototype smart technologies for rural populations in collaborative projects with the Center for Advanced Vehicular Systems, the Raspet Flight Research Laboratory, the University of Arkansas Clinton School of Public Service, and the Harvard T. H. Chan School of Public Health. Since moving to Chicago, he has worked with several city organizations to prototype new local urban/placemaking technologies. In these projects he has worked collaboratively with nearly every faculty member at the Institute of Design, and with faculty members at Stuart School of Business, Lewis College of Human Sciences, Armour College of Engineering, the College of Architecture, and the School of Applied Technology. Mathew has led research teams on projects with the Chicago Department of Cultural Affairs and Special Events, the Chicago Tribune, Accenture, Choose Chicago, and Chicago Loop Alliance (CLA). He was invited to help design urban interventions for the Chicago Cultural Plan 2012. He has taught at the University of Chicago Booth School of Business through the D4Lab initiative at the Polsky Center for Entrepreneurship and Innovation. In his new role at the Kaplan Institute, Mathew expects to continue these relationships and to build new ones.
Widely published, Mathew regularly consults on innovation projects with organizations around the world. With companies such as Godrej & Boyce in India and the Far Eastern Group in Taiwan, he helps leadership teams identify and execute strategic innovation projects. He helped design and implement Global Immersion programs at the Institute of Design, where student teams become embedded with executives in companies to work on projects of strategic value to the organization. These programs have been running since 2011 within companies in India, Brazil, and Taiwan. He has also consulted with Accenture, Hyatt, Motorola Mobility, the Hong Kong Design Centre, Urban Redevelopment Authority [Singapore]/Singapore River One, Gensler, Chicago Public Schools, Chicago Artists Coalition, and the Chicago Architecture Foundation. His projects have been exhibited at the National Museum of Mexican Art, the Old Town School of Folk Music, Chicago City Hall, and the Chicago Cultural Center. Mathew currently serves on an executive committee for Choose Chicago and on a CAF advisory board. He was previously on the CLA Board of Directors.
A native of India, Mathew holds a Ph.D. in computing from The Open University in the United Kingdom, a Master in Design Studies from the Harvard University Graduate School of Design, and a professional Bachelor of Architecture from Birla Institute of Technology Mesra in Ranchi, India.