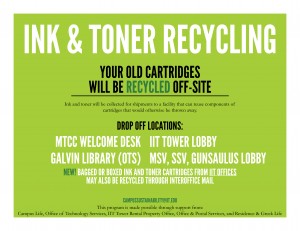 The Office of Campus Energy and Sustainability is pleased to announce a new simple option when it comes to recycling your ink & toner cartridges.
There are four drop-off locations around campus including the following:
-IIT Tower Lobby
-OTS in Galvin Library
-MTCC Welcome Desk
-MSV, SSV, and Gunsaulus Door Guard Stations
In addition, Office and Postal Services has agreed to pick up ink and toner cartridges with outgoing mail for IIT offices. In order to have your cartridges picked up, please package them either in a box or a bag and label the package clearly for recycling.
Note: Given that the main priority of Postal Services is to deliver and pick up mail, they may not be able to pick up ink and toner cartridges the day they are placed in outgoing mail.
Email for questions about this program or specific questions about a recycled item.