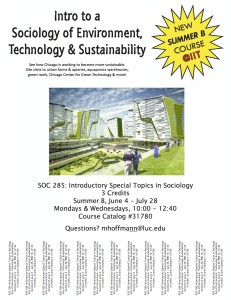 Introduction to a Sociology of Environment, Technology, and Sustainability
SOC 285: Introductory Special Topics in Sociology, 3 credits
Summer B, June 4-July 28, Mondays & Wednesdays 10-12:40
Course Catalog #31780
See how Chicago is working to become more sustainable. Site visits to urban farms & apiaries, aquaponics warehouses, green roofs, the Chicago Center for Green Technology & more! This is an introductory social science course.
Questions? contact mhoffmann@luc.edu