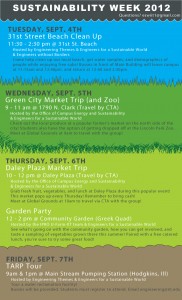 Come outside and enjoy Sustainability Week, September 4 – 7! There will be a variety of events, including a beach clean-up, trips to farmer's markets, an opening party for the community garden, and tours of a water reclamation facility!
Many participating organizations are helping to coordinate events for this first week of September, including Engineers Without Borders, IIT Engineering Themes, the Office of Campus Energy and Sustainability, IPRO, Engineers for a Sustainable World, and others.
If you have questions about any of the events, please email eswiit1@gmail.com for answers and to be directed to the appropriate organization for additional information.