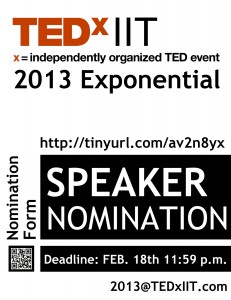 Update: The nomination deadline has been extended to 11:59 pm on Wednesday, February 20.
This is your chance to make history. Nominate a great speaker for TEDxIIT, an independently organized TED event organized by IIT students.  The 2013 TEDxIIT event will be held Saturday, April 13 with the theme "Exponential."
Speaker nominations must be made online here (email submissions not accepted).
You may nominate more than one speaker. No self nominations allowed.
TEDxIIT is designed for the entire IIT Community, including students, alumni, faculty, staff and trustees. All TEDxIIT speakers are by nomination only.
Examples of topic areas for speakers include design, entertainment, technology, smart grid innovation, renewable energy, diversity, interdisciplinary/entrepreneurship education, eco-architectural design, bio-medical engineering, music, food, social development, neuroscience, etc. No religious or political ideas, please.
1. To nominate a speaker, you must first pre-qualify your speaker. You and your speaker must both be from the IIT Community.
2. Does the speaker have an original idea that is worth sharing? Has the idea already been proven to be exponential, with documented evidence? Will this idea likely become exponential? Will your speaker make TEDxIIT 2013 Exponential?
3. Is this person a great speaker?
4. Is the speaker available for rehearsal on Friday, April 12 (between noon to 5 pm)?  Is the speaker available on Saturday, April 13, 2013 from 9 am to 6 pm?  To provide a TED like experience, is the speaker willing to share his/her time and conversation with the attendees?
5. Request that the speaker being nominated provide you a short description of his/her idea (up to 50 words) and a brief bio (up to 200 words). You must enter the information in the nomination form.
Deadline: Wednesday, February 20, 11:59 pm.
Be a part of this historic event and nominate your speaker today!  Final selections will be voted by the speaker committee on February 22. This meeting may last longer than two hours. Your input will make this event exponential.
Join our mailing list on TEDxIIT.com. Our weekly planning meetings are held from 9 – 11 am on Friday in the SW Conference Room on the 16th Floor of IIT Tower. Come join us.
Thank you for your support. If you have any questions, please contact 2013@TEDxIIT.com.