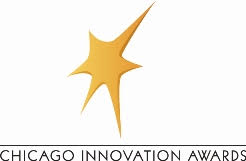 The Chicago Innovation Awards, the largest annual celebration of innovation in the Midwest, are currently accepting nominations. The awards are a way for Chicago's business and civic leaders to come together to honor the creative spirit of the Chicago region by recognizing the most innovative new products and services introduced in the market. Nominees can be large or small firms, for-profit or nonprofit, high-tech or low-tech and from across all industries. The key is innovation. Nominations must be submitted by Friday, July 31, 2015.
To be eligible for a Chicago Innovation Award, the product, service, or company nominated must be:
Introduced within the past three years
Headquartered in the greater Chicago region, including the northern half of Illinois, southern Wisconsin, and northwest Indiana
The judging committee looks at the following criteria:
Did the product/service meet an unmet need?
What new value has been created for the end user?
How unique is the product/service?
What is its quantifiable evidence of success in the market?
This year's winners will be celebrated at a reception with 1,500 attendees at the Harris Theater on October 27, 2015, invited to ring the NASDAQ bell in New York City, covered in local and national media, and more. In addition, the Top 100 nominees will receive a $2,500 scholarship to attend an executive education course at Northwestern's Kellogg School of Management. All nominees will receive complimentary tickets to attend the annual Nominee Reception at the Park West on Wednesday, September 9, 2015.
Submit a nomination here. Learn more here.