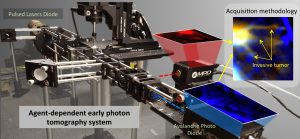 Illinois Institute of Technology has announced the ADEPT Cancer Imager project as the Phase 2 finalist of Nayar Prize I. The team will advance to the second phase of the competition and receive $200,000 over the next two years.
The finalist team was chosen from a pool of three Phase 1 finalists, each of which received $100,000 to conduct work during the first year of the competition. The other two teams examined promising advances in early childhood education for at-risk children and how driverless cities will evolve, and will likely seek additional funding from outside sources to continue their research.
Kenneth Tichauer, assistant professor of biomedical engineering at Illinois Tech, is a leading developer of the "paired-agent molecular imaging" that forms the scientific basis of the ADEPT Cancer Imager. Other team members include Jovan Brankov, associate professor of electrical and computer engineering, a leading expert in medical imaging; and Rajendra Mehta, professor emeritus of biology and an internationally recognized scientist in cancer biology and drug development at IIT Research Institute.
"Our vision is for the ADEPT system to become an essential tool in every hospital's cancer pathology lab and throughout the drug-development labs of every pharmaceutical company and academic medical center," said Tichauer. "This will directly prolong the lives of cancer patients and improve their quality of life by identifying cancer early and by enabling life-saving drugs to be brought quickly to the market."
The ADEPT team plans to explore more clinical translational applications of the ADEPT system, such as rapidly identifying breast cancer surgical margins, and to begin imaging biological samples in the near future. If the team continues to meet the metrics and benchmarks established by the team and approved by the Nayar Prize Steering Committee over the next two years, it will be awarded $500,000.
"All three finalists demonstrated incredible strides in their projects. The jury had a dynamic set of discussions in order to make this difficult decision," said Frances Bronet, provost. "The ADEPT team made substantial progress during Phase 1 of the competition—creating a prototype of the proposed cancer imager and applying for a patent—extraordinary work."
Illinois Tech trustee and alumnus Madhavan Nayar and his wife, Teresa, established the award on behalf of the Nayar Family Foundation in 2015 to recognize the extraordinary problem-solving capabilities of students, faculty, and staff at Illinois Tech and to help move the needle toward significant innovations that impact society, the economy, and our environment.
For more information about the Nayar Prize visit web.iit.edu/nayar-prize.