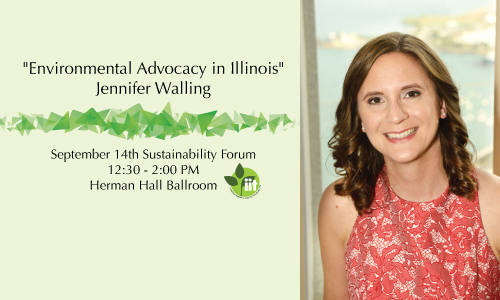 The Office of Campus Energy and Sustainability invites you to the first Sustainability Forum of the academic year on Friday, September 14 from 12:30–2 p.m. in Herman Hall Ballroom.
Guest speaker Jennifer Walling has been executive director of the Illinois Environmental Council since January of 2011. In addition to managing the organization, Walling lobbies on behalf of IEC's nearly 80 member organizations on a wide range of issues. During her time at IEC, Walling has guided passage of legislation to ban microbeads, fund natural resources protection, protect the environment from fracking, increase clean energy production, and protect children from lead in drinking water among many other issues. Walling obtained her law degree from the University of Illinois College of Law. She earned a master's degree and bachelor's degree in Natural Resources and Environmental Science from the University of Illinois at Urbana-Champaign.
Come eat lunch with us and hear about her experiences and current work passing environmentally responsible legislation.
Lunch will provided (including vegetarian options).
RSVP here.