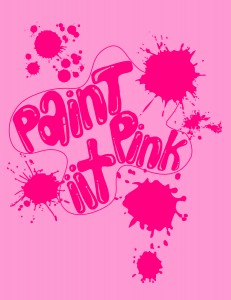 Kappa Phi Delta Sorority is hosting "Paint IIT Pink" Day, a campus-wide breast cancer awareness event benefiting the Breast Cancer Research Foundation, on Tuesday, October 7, 2014.
The day will kick off with IIT's campus "painted" with pink decorations, including ribbons recognizing the names of cancer survivors and victims displayed on The McCormick Tribune Campus Center (MTCC) South Lawn. Purchased Paint IIT Pink T-shirts will be distributed in the Office of Campus Life starting on Friday, October 3, 2014. IIT students, faculty and staff are encouraged to share pictures with the hashtag #PaintIITPink2014 on Instagram, Twitter, and Facebook. There will also be giveaways in the Office of Campus Life between 11 a.m.-2:30 p.m., a bake sale on the Greek Quad, and much more.In addition, there will also be a giant raffle with various prizes from local Bridgeport businesses and a Grand Prize VIZIO 24-Inch 1080p LED HDTV (a $200 value). In addition to raffle tickets ($1 each/$3 for 5), customized Paint IIT Pink buttons will be sold throughout this week and on the day of the event for only $1.
The day will end with the IIT Women's Volleyball "Volley For The Cure" game at 7 p.m. in Keating Sports Center. Mini-games, raffle winner announcements, and an awareness activity led by Colleges Against Cancer of IIT will take place at the game. All proceeds will support the Breast Cancer Research Foundation.
To recognize someone who battled breast cancer, fill out the recognition form here.
This event is sponsored by IIT Campus Life, Union Board, and SAF and supported by Colleges Against Cancer of IIT. For more information, email womensappreciation@kappaphidelta.com.