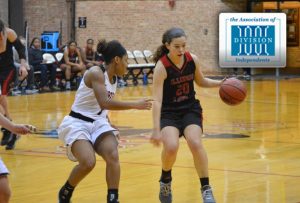 The Association of Division III Independents recently named Women's Basketball freshman Shannon O'Donnell  Women's Basketball Player of the Week (for January 30 through February 4) and Student-Athlete of the Month (for January).
O'Donnell was dominant throughout the entire month, averaging 24.1 points, 7.9 rebounds, 3.4 assists, and 1.7 steals per game while shooting 47.4% in the nine contests. She recorded seven 20-point games, two 30-point games, four games with a shooting percentage above 60 percent, two double-doubles, and four games with five assists or more. In addition, she scored in double figures in all nine contests and averaged 38.9 minutes per game, playing all 40 minutes six times. A Player of the Week selection during the month of January as well, her month was highlighted by a career-high 34 points (on 12-of-23 shooting) with 14 rebounds and six assists against St. Mary of the Woods on January 4.
The Scarlet Hawks take the court next on Thursday, February 8 hosting Robert-Morris Springfield at 5:30 p.m. Live audio, video, and stats will be available. The live audio will be powered by Illinois Media School.