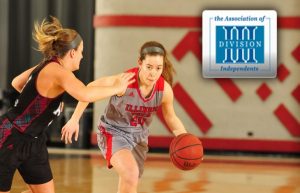 The Association of Division III Independents recently announced its All-Independent teams for women's basketball. Three Scarlet Hawks earned honors, with Shannon O'Donnell earning the association's Rookie of the Year award
O'Donnell, Rookie of the Year and All-Independent First Team selection, put up incredible numbers in her freshman season despite having to draw tough matchups each game. She displayed great efficiency, averaging 17.9 points, 6.3 rebounds, and 2.7 assists per game, all of which led the Scarlet Hawks. Her scoring total ranked second in AD3I, while her 178 free throw attempts led the association by more than 70. The three-time Player of the Week award winner (twice from the Association of Division III Independents, once from the USCAA) and AD3I Player of the Month for January also shot a strong 43.6% from the field despite playing mostly point guard and serving as the team's primary ballhandler. In addition, O'Donnell scored more than 20 points in 16 of her 21 games and dropped more than 30 twice, including a season-high of 34 on January 4 against USCAA Championships qualifier St. Mary of the Woods. Her season featured a stretch of seven games (from January 4 through January 25) where she shot at least eight free throw attempts, three double-doubles, and seven games with a shooting percentage over 50%.
After a strong end to the season, Erin Efimoff was able to put herself in position for an All-Independent First Team selection as well. Efimoff finished the season with 9.8 points (12th in AD3I) and 5.8 rebounds (tied for 13th in AD3I). The junior also had eight double-digit scoring games and two games with 20 or more points. Over her last three contests, she averaged 18.7 points per game. The Beverly Hills, Michigan, native also had two double-digit rebounding games on the season.
Madison Davis earned All-Independent Second Team honors. The Alabama native averaged 9.0 points (16th in AD3I) and 5.0 rebounds (tied for 18th in AD3I) on the season, scoring double-digits 10 times. Davis's greatest weapon was from beyond the arc, as she made at least two three-pointers in 15 of her 22 games and swished five treys on three different occasions. Davis also recorded a double-double on January 8 at Lake Forest (15 points, 11 rebounds).