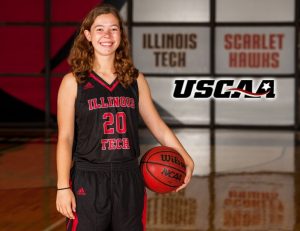 The United States Collegiate Athletic Association recently named Illinois Tech Women's Basketball player Shannon O'Donnell Second Team All-American.
Despite frequently taking on the opponent's toughest defender from game-to-game, O'Donnell played with remarkable efficiency all season, averaging 17.9 points, 6.3 rebounds, and 2.7 assists per game, all of which led the team. Her scoring total ranked third in the USCAA, while her 178 free throw attempts led the association by more than 30. The three-time Player of the Week award winner (twice from the Association of Division III Independents, once from the USCAA) and AD3I Player of the Month for January also shot a strong 43.6% from the field while predominantly playing the point guard position.
The numbers for O'Donnell are even more impressive when one looks at her game log. She scored more than 20 points in 16 of her 21 games and dropped more than 30 twice, including a season-high of 34 on January 4 against USCAA Championships qualifier St. Mary of the Woods. The Lemont, Illinois, native got to the free throw line seemingly at will, as her season featured a stretch of seven games (from January 4 through January 25) where she shot at least eight free throw attempts. She also tallied three double-doubles on the year, seven games with a shooting percentage over 50%, and season highs of 14 rebounds (also against SMOW) and eight assists (at Grace Bible on February 16).