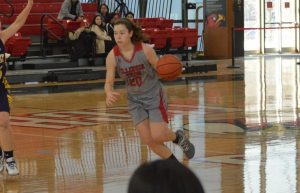 The Illinois Tech Women's Basketball team played host to St. Mary of the Woods College on January 3. Despite an outstanding game from Shannon O'Donnell and a great effort on the boards by Erin Nelson, Illinois Tech fell to the Pomeroys 90-58. On January 6 the team faced Maranatha Baptist University and was defeated 68-38.
How it Happened – SMOW
St. Mary of the Woods ran a high-pressure, high-volume system for the entirety of the game, subbing in a new wave of players every few minutes to keep up the intensity. Despite the pressure, the Scarlet Hawks were able to hang around early on.
The Pomeroys shot lights-out in the early going to build a lead, and SMOW led 28-16 after one. After Illinois Tech slumped in the second quarter, the Pomeroys took a 54-26 lead into halftime.
Illinois Tech played tough in the second half, as the visitors outscored the Hawks by just four (36-32).
Scarlet Hawk Standouts
O'Donnell was ultra-impressive, scoring 34 points (20 in the second half) on 12-of-23 shooting and 10-of-16 from the free throw line. She also pulled in 14 rebounds and had six assists.
Nelson dominated on the glass with 18 rebounds, 14 of which were offensive. She also scored eight points.
Stats to Know
O'Donnell's 34 points are the most by a Scarlet Hawk since the program was reinstated.
Nelson's 18 rebounds are the most in a game for Illinoi sTech since Lauren Capuando recorded 26 on February 10, 2014 (a 67-33 win over Mount Mary).
How it Happened – MBU
Maranatha shot well early, scoring a quick five points in the first minute. The visitors used 11 points from Kelsey Johnson (nine of which came on three-pointers) to take a 19-8 lead after one.
Illinois Tech's intensity turned up in the second quarter, as O'Donnell brought some offense. She scored eight of the team's 12 points and Illinois Tech trailed 32-20 at the break.
In the third quarter, Maranatha used the foul line to extend the lead. The Sabercats scored 20 points behind nine-of-12 free throw numbers.
The Scarlet Hawks struggled offensively down the stretch, leading to MBU's 30-point victory margin.
Scarlet Hawk Standouts
O'Donnell's freshman season continues to get better and better. The Lemont, Illinois, native scored 26 points and also had eight rebounds and four steals.
Erin Efimoff narrowly missed a double-double with eight points and 11 rebounds.
Stats to Know
O'Donnell now has 60 points over the last two games and accounted for 68% of the team's offense on January 6.