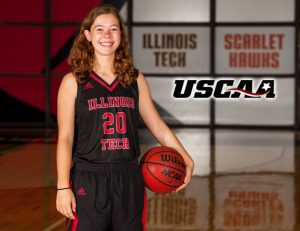 Freshman Shannon O'Donnell has been named the Women's Basketball Player of the Week by the USCAA for her great week of competition from January 14–20. This is her first weekly recognition from the USCAA this season.
O'Donnell helped the lead the team to a 1-1 record last week, shooting a stellar 43.6% from the floor in the process.  She also led the Scarlet Hawks with 27 points, six rebounds, and two steals in a victory over Robert Morris University-Springfield as well as 27 points, eight assists and six rebounds against Grace Bible.
The Illinois Tech Scarlet Hawks will face Maranatha Baptist on Thursday, January 25 at 7 p.m.