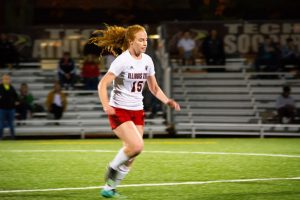 The Illinois Tech Women's Soccer team scored eight goals on their way to Northern Athletics Collegiate Conference victory against Lakeland on October 17.
How It Happened

Katie Hoefgen wasted no time getting the match started as Caeli Kennedy dished it out to her and found the back of the net in the third minute for her 17th goal of the season.
Ten minutes later, Hoefgen again scored a goal with the assists from Anna Delseith and Kirsten Robinson.
Shortly after that, Hoefgen recorded a hat-trick with her third goal of the match thanks to an assist from Cosette Thompson in the 14th minute.
To close out the half, Julia Honda recorded her first goal of the season in the 37th minute.
Hoefgen opened the second half with a pass to Julia Taliana for her ninth goal of the season.
Jamie Griggs added her 13th and 14th goals of the season two minutes apart to make it 7-0 Illinois Tech.
Hoefgen scored her 20th goal of the season in the 63rd minute.
Scarlet Hawk Standouts
Hoefgen recorded four goals and assisted on two others to bring her total to 20 goals and nine assists on the season.
Griggs also had a multi-goal match, scoring on two goals.
Catherine Klemp posted another shutout in goal, played all 90 minutes, and recorded one save.
Thompson had four shots (three on goal).
Up Next
Illinois Tech will face the University of Chicago Maroons on Thursday, October 18 at 7 p.m.