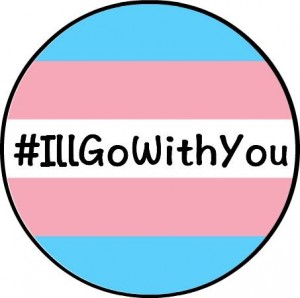 No one should have to feel unsafe using a restroom or other gendered space that conforms with their gender identity.
The pledge of #IllGoWithYou is that those of us with passing privilege offer to be a bathroom buddy, a watch-your-back person, a stand-up-for-you person. #IllGoWithYou says "I will have your back. I will be your witness." During Transgender Awareness Week (November 14 through Friday, November 20), the Office of Campus Life will be passing out buttons on The McCormick Tribune Campus Center (MTCC) Bridge during lunch. If you're a faculty or staff member not on the Mies (Main) Campus, you can request a button via email (campus.life@iit.edu) and it will be sent to you.
For more information, click here.
This event reflects the values expressed in IIT's Diversity Statement and is intended to promote diversity at Illinois Tech.