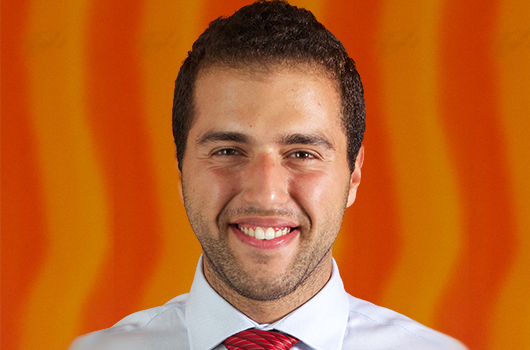 Omar Alhaj Ibrahim (BME 4th year) has been selected to deliver the student address at the Armour College of Engineering Unit Ceremony on Commencement day. He was selected for this honor based on his accomplishments and dedication to the Armour College of Engineering community from a pool of engineering students who applied to be the Illinois Institute of Technology Undergraduate Student Commencement Speaker.
Alhaj Ibrahim came to Illinois Tech from his home Damascus, Syria through a program initiated by Illinois Tech, Jusoor, and EducationUSA-Syria. The initiative sought to increase the access of a college education to students in this war-torn country. He began his studies in the Biomedical Engineering department because of his interest in how technology and engineering can influence and improve healthcare on a broader level.
After developing an interest in research, Alhaj Ibrahim was selected to participate in Armour's undergraduate research program, Armour R&D. He earned the Runner Up Award for summer 2015 at the 2nd Annual Armour R&D Expo 2016 where he presented the work he conducted with Assistant Professor Kenneth Tichauer to optimize imaging protocols for a novel cancer imaging device.
Alhaj Ibrahim also participated in IIT Engineering Themes, a program that allows undergraduate students to expand on their education by attending workshops, field trips, and completing projects based on the current Themes: Water, Health, Energy, and Security. He will be recognized for his exceptional participation in the program during a special medal and sash ceremony Friday, May 12. In addition to his extracurricular activities, he maintained a 3.8 GPA and was included on the Dean's List every semester for the duration of his time at Armour.
Outside of Armour, Alhaj Ibrahim was an active member of the broader Illinois Tech community. He is a Leadership Academy scholar, was a resident adviser for three years, served as a conference housing assistant, and participated in MEDLIFE's medical brigade to Lima, Peru in 2014 to help communities in need gain access to healthcare.
A recipient of the Clinton E. Stryker Distinguished award for outstanding service to campus life, Alhaj Ibrahim always found time to serve others on campus and beyond. As part of Illinois Tech's Alternative Spring Break for two consecutive years, he helped to build houses in North Carolina and West Virginia through Habitat for Humanity.
Alhaj Ibrahim is also committed to giving back to his home country and helping to provide others with the education he received. As part of Jusoor's giving campaign, he raised $1,400 to help young Syrian refugees get access to education. He was also an active member in the Biomedical Engineering Society (BMES) and the Society of Hispanic Professional Engineers (SHPE) and was a founding member of the Syrian Club at Illinois Tech. This past summer, he interned at Goldman Sachs in NYC as a summer analyst in the operations and risk management division.