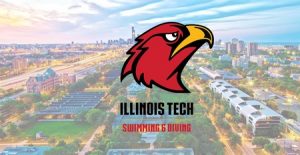 With the departure of Kyllian Griffin, Andy Parro will serve as interim head coach of the Men's and Women's Swimming and Diving teams at Illinois Tech for the 2018–19 season. Billy Bafia, one of the most decorated swimmers in Illinois Tech history, will remain on staff as Parro's lead assistant.
"We are fortunate to have Andy and Billy here in Kyllian's absence to keep the program running at a strong and consistent level," said Director of Athletics Joe Hakes. "Billy's history with the program here and Andy's ties to local swimming will be a great combination for us. Our swimmers and divers have adapted to them quickly, and we look forward to a successful season."
A four-year swimmer at NCAA Division I University of Illinois-Chicago, Parro has served as aquatics director and head swimming and diving coach at Whitney M. Young Magnet High School in Chicago since 2009. As head coach for the Dolphins, Parro coached his teams to six Chicago Public League Conference Championships. In addition, he was named IHSA Sectional Coach of the Year in 2017.
Parro also served as founder and head coach of Six Point Aquatics in Chicago, aquatics director and head swim coach at the Lake Forest Club in Lake Forest, and aquatics director at Lake Shore Sports and Fitness in Chicago.
Bafia enters his fourth season as an assistant coach at Illinois Tech. A 2015 graduate of Illinois Tech, Bafia was a two-time NAIA National Championship qualifier, four-time varsity letter winner, and a 17-time conference finalist in the Liberal Arts Conference Championship throughout his career. Bafia also served as team captain for the Scarlet Hawks from 2013–15.