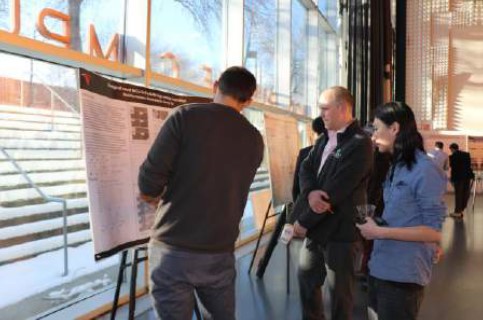 The ASM International Chicago Chapter is proud to partner with the Illinois Institute of Technology Material Advantage Chapter to announce a Chicagoland Student Poster Competition. This competition will be an excellent opportunity to network with local ASM members from industry and academia, showcase your research to the community, and get presentation experience without needing to travel far to a conference.
We encourage all Chicagoland graduate and undergraduate students to participate. Poster entries will be judged for design, presentation, and scientific merit by ASM member judges. The top three overall poster presentations will win cash prizes.
1st place award: $350
2nd place award: $200
3rd place award: $100
We are also seeking additional judges from local universities or industries. Please indicate in the RSVP form below whether you are interested in joining us as a judge for this competition.
The competition will be held on:
April 19, 2023 from 6–8 p.m.
At the MTCC Ballroom at Illinois Institute of Technology, 3201 S State St, Chicago, IL 60616.
The Ballroom will open at 5:30 pm for setting up posters (easels will be provided for poster displays) and networking.
Food will be provided.
Please fill out this form by Friday, April 14, if you are interested in participating in the competition as a competitor, judge, or attendee.
Sincerely,
ASM International Chicago Chapter, asmchicagochapter@gmail.com
IIT Material Advantage Chapter, materialadvantage@iit.edu