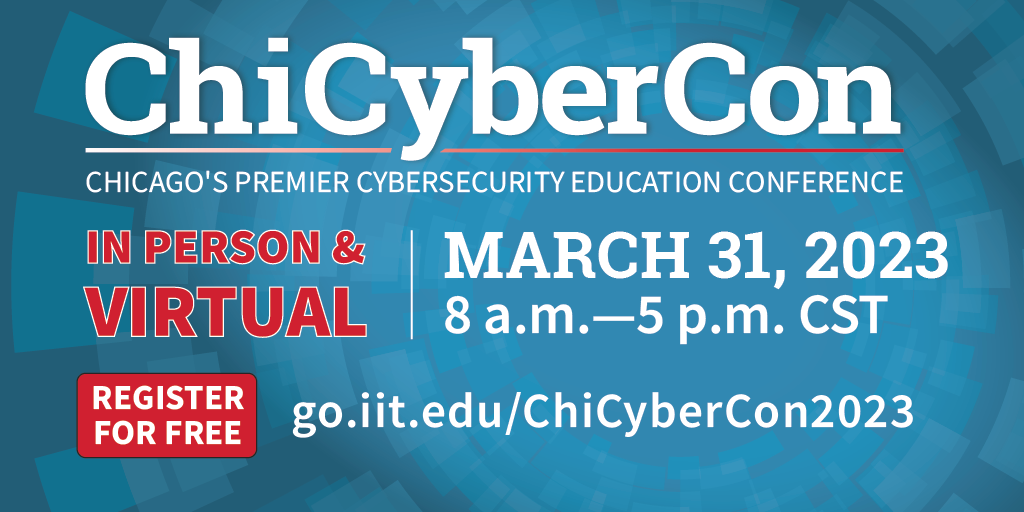 ChiCyberCon is Illinois Tech's premiere cybersecurity conference. This conference serves as a source for business leaders, technology and computing professionals, researchers, university academics, and students interested in security techniques, technology, laws, policies, and training initiatives currently being implemented and adapted for secure computing.
The conference is open to anyone interested in cybersecurity.
ChiCyberCon will be held Friday, March 31, 2023, at Hermann Hall on Illinois Tech's main campus and online. Conferences will be held 8 a.m. to 5 p.m., with a job fair 10 a.m. to 2 p.m. and a reception 5–6 p.m.
Professionals can register for the event here; the cost is $125 to attend in-person and $50 online. Students can register for free here.
ChiCyberCon features speakers from all areas of cybersecurity, including top policy-makers, social engineers, frontline cyber defense specialists, corporate cybersecurity executives, technical experts, and cybersecurity educators.
There are several ways you and your organization can participate in ChiCyberCon Cybersecurity Conference:
Speak—Submit your speaking proposal on a cybersecurity topic here.
Panel Discussions—Join a cybersecurity panel in one of the following 5 topic areas:

Breaking into the cybersecurity profession
Supporting women in tech/cybersecurity
What is going on in tech?
The life of a cybersecurity professional working in government
Feedback from newly minted cybersecurity professionals

Register to be a panelist here.
Student Poster Sessions—Submit your cybersecurity poster here. All students from all universities and high schools are welcome.
Sponsor/Exhibit—Promote your business and support the conference by sponsoring or exhibiting. Register to sponsor here.
Recruit—Find and hire new to advanced cybersecurity professionals. Register to recruit here.
Job Fair—Find a new or better job at the job fair. Open to all levels of cybersecurity experience. Register for the job fair here.
If you have any questions, email chicybercon@iit.edu.