The go-live date for PeopleAdmin 7.0 for performance evaluations has been moved to Monday, April 11, 2016. Pictures of the icons as they will appear on Monday, April 11 are below. The greyed-out icon will be used to access the old version of PeopleAdmin where you will still go through the posting process and access previous years' reviews. The larger red icon with the "7" is the new version that will be used for position descriptions and performance evaluations.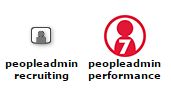 Important Note:
We are still using the old version of PeopleAdmin for the recruiting functionality for now. By the end of the summer, we will have transitioned that functionality to PeopleAdmin 7.0.
If you want to hire a new position or replace an existing positon, you must still use the current posting process. (I.e. completing the justification, updating the job description in PeopleAdmin 5.8 and the position will be posted by HR).
If you are updating a job description for changes in content only, use the new PeopleAdmin 7.0.
There will be announcements and training before the recruiting functionality goes live.
If you were unable to attend one of the live training sessions on the Performance Evaluation module, there is a pre-recorded session available, as well as pdf training documents on the HR Portal.
The following schedule can be used as a guideline for the completion of the reviews:
Monday, April 11 through Friday, April 22: employees complete self-evaluation and supervisors can solicit multi-rater feedback, if applicable
Saturday, April 23 through Friday, May 6: supervisors prepare evaluations
Saturday, May 7 through Friday, May 13: reviewing officer completes the second level review
Saturday, May 14 through Tuesday, May 31: evaluation discussions
Wednesday, June 1: all evaluations completed