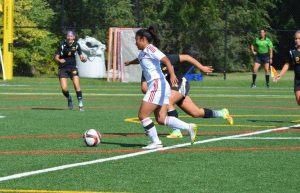 The Illinois Tech Women's Soccer team hosted Alverno College for Senior Day on October 22. Behind a hat trick from one of its seniors, Illinois Tech downed the Inferno 6-1.
How it Happened
Things were quiet until the 28th minute. Anida Phetchanpheng scored courtesy of a Katie Hoefgen assist to give the Scarlet Hawks a 1-0 lead. Just two and a half minutes later, Katherine Nishimoto fired a shot over the keeper's head from just outside of the box to pad the Illinois Tech advantage.
In the 40th minute, Nishimoto assisted Phetchanpheng for Illinois Tech's third goal, coming on a header. Three minutes later, Kirsten Robinson increased the lead even more courtesy of a Hoefgen assist. Illinois Tech led 4-0 at halftime.
After assisting on two goals in the first half, Hoefgen was able to score a goal of her own in the 70th minute. She scored courtesy of Nishimoto's second assist.
After Alverno tallied in the 88th minute, Illinois Tech scored with just 26 seconds left in the match courtesy of a pair of threes. Phetchanpheng scored her third goal of the game off of Nishimoto's third assist to bring the match to its 6-1 final.
Scarlet Hawk Standouts
Phetchanpheng tallied her second hat trick of the season, scoring three times on nine shots (three shots on goal). The three goals snapped a five-match scoreless streak for Phetchanpheng, who now has 12 goals on the season.
Nishimoto scored on her only shot and totaled a career-high three assists.
Hoefgen scored on one of her six shots (three on goal) and added two assists. It was the first time this season she tallied multiple assists in a match.
Robinson scored once on six shots.
Stats to Know
Illinois Tech is now 6-11-1 on the season. Alverno is now 5-10.
The Scarlet Hawks outshot the Inferno 27-4 overall and 11-4 on net.
Illinois Tech attempted six corner kicks compared to just two for Alverno.
Up Next
Illinois Tech will host Elmhurst College on Tuesday, October 25 to wrap up the 2016 season. Live audio, video, and stats will be available. The live audio will be powered by Illinois Media School.