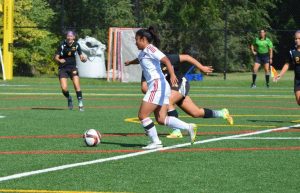 The Illinois Tech Women's Soccer team captured its third victory of the season on September 30. Traveling to Maranatha Baptist, Illinois Tech downed the Sabercats 3-0.
How it Happened
Anida Phetchanpheng carried the Scarlet Hawks offensively, starting things off in the 11th minute. An unassisted goal from six yards out put the Scarlet Hawks up 1-0.
Illinois Tech outshot the Sabercats 11-0 in the first half, but Phetchanpheng's first goal was the only tally the Scarlet Hawks were able to record in the 45 minutes.
Phetchapheng scored her second goal in the 50th minute. The unassisted goal from seven yards out put Illinois Tech up 2-0.
The senior added more insurance for the Scarlet Hawks in the 75th minute. She completed the hat trick and scored off of an Olivia Kochanek pass to bring the match to its final score of 3-0.
Scarlet Hawk Standouts
Phetchanpheng recorded the hat trick on seven shots and three shots on goal.
Kirsten Robinson attempted seven shots of her own.
Kochanek attempted two shots and recorded an assist.
Jessica Park earned the shutout victory, recording two saves.
Stats to Know
The Scarlet Hawks outshot the Sabercats 20-2 overall and 5-2 on net.
Illinois Tech attempted five corner kicks and held MBU without an attempt.
Illinois Tech committed five fouls compared to just two for the Sabercats.