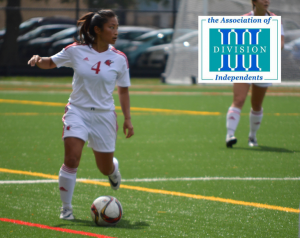 The Illinois Tech Women's Soccer team received several honors on November 17, as the Association of Division III Independents announced its All-Independent teams and awards. Five Scarlet Hawks were named All-Independent.
Anida Phetchanpheng is the lone Illinois Tech representative on AD3I's First Team. The senior capped off an impressive career with a 12-goal season to go along with one assist. She recorded two hat tricks, two two-goal games, and three game-winning goals from the forward position. The three game-winners ranked her in a tie for third among all AD3I players, while her 12 goals ranked her fifth. Phetchanpheng earned several weekly honors this season, receiving two Player of the Week awards from AD3I and one from the USCAA over the course of the season.
Jessica Park was chosen as the first goalkeeper on the All-Independent Second Team. A sophomore, Park was impressive in her first season as the full-time netminder. She ranked second in the Association with a save percentage of .770, stopping 137 shots (third in AD3I) and compiling a 2.13 goals against average. The Hinsdale South product also played just under 1,730 minutes in net, leading AD3I in net time by over 350 minutes.  She also tied for the AD3I lead with four shutouts and was a USCAA Goalkeeper of the Week recipient this season.
Katherine Nishimoto joins Park on the Second Team. Chosen as the team's first defender, the California native helped guide the Scarlet Hawks to a goals against average of 2.12. The sophomore improved her offensive game in 2016, tallying two goals and three assists. Both of her goals were game-winners.
Katie Hoefgen is the third and final Scarlet Hawk selected to AD3I's Second Team. The Wisconsin native was effective in her first season with Illinois Tech, tallying two goals and four assists in just 13 matches. A sophomore, Hoefgen's season highlight was a one-goal, two-assist performance on October 22 in a 6-1 win over Alverno.
Kirsten Robinson rounds out the Women's Soccer honorees with an All-Independent Third Team selection. Leading the Scarlet Hawks in shots with 59, Robinson scored four goals and added two assists on the season. The sophomore and California native scored the game-winner in Illinois Tech's 2-1 win over St. Mary of the Woods on September 21, finding the back of the net with just over five minutes to go in the match.