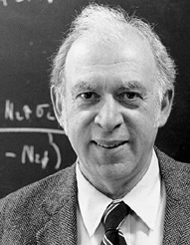 IIT Stuart School of Business and the MIT Club of Chicago will co-host 1990 Nobel Laureate in Physics and MIT Professor of Physics Emeritus Jerome Friedman, who will deliver a lecture at 6:15 pm on Wednesday, March 7 at the Downtown Campus, Ogilvie Auditorium.
Friedman's lecture, "Probing the Small and Large Structure of the Universe," is geared towards a general audience. He will discuss the discoveries that have been made in advancing our understanding of the observable universe's structure, from its outer reaches down to distances shorter than the size of an atom.
Friedman received the 1990 Nobel Prize in Physics for his pioneering work on the inner structure of protons and neutrons in the atomic nucleus. He also was jointly awarded the W.H.K. Panofsky Prize in 1989 for the experimental discovery of quarks. He received both his M.A. and Ph.D. in physics from the University of Chicago, and then began his long collaboration with the late Henry Kendall (with whom he shared the Nobel Prize) at Stanford's High Energy Physics Laboratory. Friedman joined the MIT Physics Department in 1960, and served as department head from 1983 to 1988. He served as director of the MIT Laboratory for Nuclear Science from 1980-83.
Please register to attend this event by Monday, March 5.