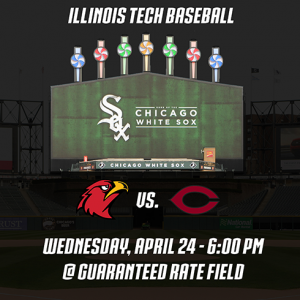 CHICAGO—On Wednesday, April 24, the Illinois Tech baseball team will play its annual game at Guaranteed Rate Field, home of the Chicago White Sox. This year, the Scarlet Hawks will oppose the University of Chicago at 6 p.m., with Illinois Tech serving as the home team.
Below is a complete list of information for Wednesday's game:
Address: 333 W. 35th Street, Chicago
Game Time: The contest will begin at 6 p.m. Gates to the stadium will open at 5 p.m.
Admission and Seating: Admission is free to all constituents. There will be open seating in the stadium's 100 level. No ticket is required for entry.
Parking: Free parking will be available in Lot B. Teams, coaches, and umpires will park in Lot D. A parking map of Guaranteed Rate Field can be found here.
Concessions: Limited concessions will be available for Wednesday's contest.
Live Coverage: Live stats, video, and audio are set to be available for Wednesday's game. Links to live coverage can be found on baseball's schedule page. The live audio will be powered by Illinois Media School.