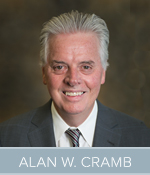 Illinois Institute of Technology President Alan Cramb will speak at the Chicago Venture Summit on Thursday, April 21.
The 2016 Chicago Venture Summit will include an inside look at how prominent family offices assess investment opportunities, guiding strategies for corporate venture arms and how Chicago's top universities develop thriving start-up ecosystems. In 2015, Illinois firms recorded $1.12 billion in venture funding, up from $1.05 billion the year before, according to PricewaterhouseCoopers and the National Venture Capital Association.
"Chicago's thriving start-up scene is a testament to our talent, our universities, and our ecosystem of ideas that is driving entrepreneurship and innovation all throughout our city," said Chicago Mayor Rahm Emanuel, who will open the 2016 Chicago Venture Summit. "I look forward to building on the success of Chicago's last Venture Summit and continuing to support our start-up community as they create the kind of jobs and innovations that make Chicago a world-class destination."
During the day, presenting start-ups for the 2016 Chicago Venture Summit will feature technology companies that have already raised capital and are seeking additional finance rounds. These companies have demonstrated innovative solutions to real-world problems with strong product market fit and growing customer bases.
Along with lead sponsors JP Morgan, Google, William Blair and Goldman Sachs, additional sponsors of the 2016 Chicago Venture Summit include PrivateBank, Silicon Valley Bank, Origin Ventures, GE Ventures, Microsoft, Pritzker Group, Foley & Lardner LLP, Chicago Ventures, Hyde Park Venture Partners, and Lightbank