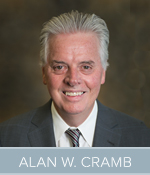 Alan W. Cramb, president of Illinois Institute of Technology, has been elected NAI Fellow by the 2015 National Academy of Inventors (NAI) Fellows Selection Committee. He will be inducted during the Fellows Induction Ceremony on April 15, 2016 at the United States Patent and Trademark Office in Alexandria, Vir.
The NAI Fellows Selection Committee chose Cramb for induction because he has "demonstrated a highly prolific spirit of innovation in creating or facilitating outstanding inventions that have made a tangible impact on quality of life, economic development, and the welfare of society."
Cramb has also been invited to attend the NAI Fifth Annual Conference April 14 and 15, 2016 in Washington, D.C. where activities will include the NAI Signature Dinner to be held at the Smithsonian National American History Museum and keynote addresses provided by:
Cristin A. Dorgelo, chief of staff, White House Office of Science and Technology Policy
Victor J. Dzau, current NAI fellow and president, National Academy of Medicine
Andrew H. Hirshfeld, United States commissioner for patents
Following his induction Cramb will be invited to a Fellows Only Reception located inside the National Inventors Hall of Fame Museum.